Short biography of Deputy minister of Refugees in the Ministry of Refugees and Repatriation
Profile
Dr. Alema is prominent Afghan scholar in the fields of social sciences and philosophy. She has twenty years of professional experiences in conflict analysis, development and project management in conflict and post-conflict settings. She is the author of publications on German-Afghan foreign relations as well as on women empowerment in Afghanistan.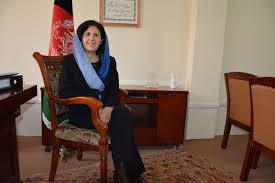 She is a famous women rights and human rights defender in Afghanistan and across the world. She has presented lectures to academic institutions on philosophy and social development. She gives interviews and participates in round-tables in national and international media as an Afghan relations expert to international community. She is a professional trainer and moderator in the fields of human rights, humanitarian law with focus on refugees, immigrants and displaced persons. She has experienced employments across sectors including non-profit and government agencies.
Employment History
Deputy Minister of Ministry of Refugees, Returnees and Repatriation (MoRR)
Kabul Afghanistan, 2016- up to date
She coordinates Afghan government efferent to International community on Afghanistan refugees and returnees issues
She harmonise MoRR legal support, international Affairs and Research divisions of MoRR
She represent Afghanistan government in the international negotiations
She provides feedback to international stakeholders in refugees issues in Afghanistan and region
She leads Afghan state subcommittees in the fields of coordination and cooperation of Afghan institutions to make policies in the fields of refugees and repatriations.
She provides inputs to international academic and research institutions on the issues of refugees and immigrants
She leads a committee to provide reports to UN agencies on the issues of refugees, immigrants and displaced persons
Political & International Relations Advisor to Minister, Ministry of Women's Affairs, Kabul, Afghanistan July 2014 – Mache 2016
She reviews the MoWA Policy and sets priorities in the working procedure, provides recommendations for a clear strategic planning process in the political sector for the future
She develops work procedures to ensure the participation of women in governmental and non-governmental structures, reviews NAPWA and prepares working procedures according to NAPWA to set priorities based on it
She provides advices and directions on draft of policies, makes recommendations concerning MoWA functional improvements and develops capacity in order to increase its potential issues at political and international level. She creates relations between MoWA and civil society organizations and national and international institutions aligned with MoWA's Policy mandates
Civil Peace Service (ZFD) Kabul, Afghanistan
Program Coordinator 2008 - 2013
Responsible for the organizational development and the monitoring of the ZFD Program of GIZ (German Development Service) in Afghanistan
Writing of strategic papers that contributes to the development plan of the ZFD program
Working as a focal point for existing and also new capable partner organizations
Developing methods and concepts of conflict transformation in the light of the present political situation and grassroots' experience of local partners
Supporting and advising international and national staff members as well as the local partner organizations in their program implementation and  organizational development
German Development Organization (DED) Kabul, Afghanistan
Responsible for Program Good Governance 2004 - 2007
Supporting local grassroots initiatives in order to strengthen the social and political commitment of the civil society, its unions and organizations
Supporting the partner organizations of DED and their organizational development according to the Afghan constitution law
Advising and supporting organizations on public relations
Advocating for good governance on behalf of the DED
Fostering close cooperation with the civil society
German Development Organization (DED) Kabul, Afghanistan
Responsible and Advisor on Civil Society Organizations 2002 – 2004
Supporting local grassroots initiatives in order to strengthen the social and political commitment of the civil society, its unions and organizations
Managing projects and activities to enhance the economic support of underprivileged groups, especially children and women
Advising and supporting local media programs for women and other underprivileged groups
Managing income generating projects for women, handicapped people as well as for other underprivileged groups
German Technical Development Organization (GTZ) Kabul, Afghanistan
Consultant February 2002 – February 2002
Conducting a research analysis for the Afghan Ministry for Women's Affairs
Universities in all over Germany
Freelancer 2001 – 2002
Lecturing the subject History of Afghan Politics and Gender
German Trade Union Federation (DGB) Frankfurt,
Project Manager 2000 - 2001
Managing the Advisory and Qualification Team of the IT-Training Center
German Vocational Training Institution (DGB) Frankfurt, Germany
Project Assistant 1998 – 2000
Working on the project "Professional Client-oriented Performance in European Business Relations"
Assisted the Institute of Orientalism Munich/Berlin, Germany
Research Assistant 1995 – 1997
Assisting the Institute of Orientalism on the research project "History of Afghanistan during WW I and WW II".
Afghan Democratic Women's Organization Kabul, Afghanistan
Project Assistant 1988 – 1990
Conducting awareness-raising project
Lobbying on strengthening women's rights and women empowerment
Afghan Association for Family Planning Kabul, Afghanistan
Project Officer January 1983 – August 1983
Advising on Family Planning
Voluntary Work
Chairman of the Afghan Student-Association and member of the International Student Secretariat at the Leipzig University, Leipzig Germany
1986 – 1988
Supervisor for the attendees of the second Petersberger Afghanistan Conference, Bonn, Germany, February 2011
Member of the science Institute of the Ghawhar Shad University, Kabul Afghanistan, 2010 - present
Co-Founder of the Committee on Women's Political Participation, Kabul Afghanistan, 2004
Assistant to the Advisory and Support Asylum Committee at Amnesty International, Frankfurt Germany, 1996 - 2002
Co-Founder of the Solidarity Committee for Afghan Women, Frankfurt Germany, 1997
Education
PhD. in Philosophy (1990 – 1994), Thesis topic: "Foreign Relations between Afghanistan in Germany in the years of 1919 – 1929".
University of Leipzig, Germany
M.A. in Philosophy (1984 – 1988)
University of Leipzig, Germany
Languages
Dari                             fluent
German                       fluent
English                        conversational
Pashtu                         conversational
Skills
Capacity Works (GIZ)
Monitoring & Evaluation (GIZ)
Organizational Development and Leadership Training (GIZ)
Value
Dr. Alema main value is respect for human dignity. She is committed to rule of law, transparency, accountability and democracy. She is committed to team-work, dialogue and coordination with partners, colleagues and relevant stakeholders. She can tackle challenges and provides inputs for crisis resolution.
Publications
Alema, Alema (2001): Die Beziehungen zwischen Afghanistan und Deutschland in den Jahren 1919 bis 1929. VVB Verlag Laufersweiler, Gießen.
Alema, Alema (1995): Afghanistan zwischen den beiden Weltkriegen 1914 – 1945. Institut Schwerpunkt Moderner Orient, München/Berlin.
Alema, Alema (1994): Die Beziehungen zwischen Afghanistan und Deutschland in den Jahren 1919  bis 1929. Universität, Leipzig.
Alema, Alema at al. (1983): Glossar Deutsch – Dari. Zwei Bände. Herder-Institut, Leipzig.